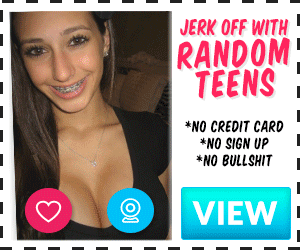 After our little adventure in second period, my boyfriend and I met at lunch both feeling very horny. I was tempted to fuck him in front of everyone right there and then, in the middle of the cafeteria. Unfortunately there were many teachers around. We sat down and ate lunch at the round table with all of our friends, and were sitting very close to each other. Under the table, his hand was slowly moving up my thigh the whole time, and eventually he got to my pussy. At that moment I couldn't help myself, so I told the table that I left something in my last class, and he offered to come with me. We didn't really know where to go though, as every class/bathroom was full of people.
We kept looking around, and eventually we found the elevator, which had been broken for a few months. The door still opened though :). We went in and once again my boyfriend took initiative. He grabbed me by the shoulders and threw me onto the floor before the door even closed. He climbed on top of me, and we made out for a few minutes. I loved the way his tongue moved around my mouth, and his fingers playing with my nipples through my shirt while we lied on the floor of the elevator. After a few minutes. He got up and pulled his pants and underwear down, revealing his huge
twitching dick that I love to worship. He didn't have to be assertive for me to get on my knees and start playing with it. The precum was already leaking, and I positioned my head under the tip so it would land in my mouth when it dropped. After a few minutes of stroking, I had to have a taste. I took the whole thing in my mouth, and I could feel it in the back of my throat. This was the first time ever that I haven't gagged when I've tried to do that, so I must be getting good. You could feel and hear the elevator shake as I moved my face back and forth on his cock while I was on my knees. After a few minutes of swirling my tongue around his tip, taking the whole thing, and getting his dick wet with my saliva, he told me he was going to cum. I couldn't let him though, I wanted some to. He was mad though (not like real mad) and just kept jerking off his cock and ended up cumming all over my face and hoodie. I wasn't mad at all, and I made sure to get all the cum off from everywhere and lick it up. There was a lot and it tasted so good, maybe I should've just kept going.
Upvote for Part 3