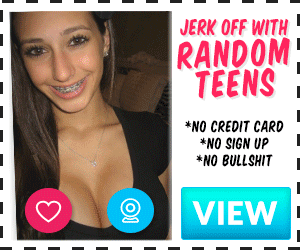 Suzy was in the living room applying her slutty pink lipstick. There was knock at the door and I went to answer it. It was Lauren who was going to babysit Suzy's kids. The kids were out at one of their friends, but would be back at some point, so I let Lauren in. She was looking very fuckable – her straight blonde hair not tied back in to a ponytail today and heavy eye make-up. She was wearing a little black crop top and her pink bra clearly visible, just about holding her firm young tits inside and those tight black leggings that I fucking loved. Her cunt bulging out at the front and just aching to be touched. She finished off her outfit with a pair of crisp white Nike trainers. It was clear she had made the extra effort for my benefit after the blowjob she gave me in the kitchen a couple of weeks before.
I said hello and told her Suzy was in the living room and to go inside I closed the front door and followed her in to the living room, watching her juicy 18 year old arse jiggling with each step. I resisted the urge to slide my hand between her cheeks just before she opened the living room door.
Lauren had previously told me how much she liked my tattoos and had said she planned to get some herself. She put her bag down on the sofa and said "Guess what I got?" she then pulled down the front of her leggings, revealing her pink knickers and showing us her new tattoo. It was some cute little flowers just above and to the left of her pussy. It was super cute and I was also enjoying looking at her sexy pink panties. She excitedly talked about wanting to get loads more. Suzy said how much she liked Lauren's new tattoo and gave me a look that said "If only she knew you fucked me in her panties"
I was waiting for an opportunity to get Lauren's phone number so we could continue what we had started. I knew she wanted more and I couldn't wait to put my cock inside her tight little cunt. I wasn't expecting the opportunity to come up quite that fast, but Suzy said she was going to walk to the petrol station to get a phone top up and some cigarettes. I knew the walk to the petrol station and back took about 8 minutes…. we wouldn't have very long.
Lauren clearly thought the same thing as me as she had a kind of cheeky smile as Suzy got up and walked towards the door. Suzy was looking hot as ever in her tiny denim skirt and the thought flashed through my mind that it would be amazing to fuck them both, but the fact I had already cum in Lauren's mouth complicated things a little, Suzy didn't know about that and when we had involved other people in sex before we had done it together…. so fuck it, work something out another day, maybe.
As soon as Suzy was out the front door Lauren started kissing me and rubbing my hardening cock through my jeans and I had my hand inside her leggings and panties and was rubbing her sticky slit. I suggested we go upstairs as it would be a little less risky if Suzy came back – although Suzy had said she had a fantasy about catching me fucking her babysitter. This wasn't the time to put that to the test though, you know what I mean? We went to the bedroom and I yanked down Lauren's leggings and then her slutty little pink thong. No time to get undressed so I fingered her wet cunt as we kissed and then I made her lay on the bed with her arse in the air and I buried my face in her arse cheeks, my nose right in her arsehole as I tasted her tight, pink pussy for the first time. Her cunt smelled and tasted divine, it had a different aroma and taste to Suzy's pussy. Lauren moaned as an older, bearded and tattooed to fuck man licked her cunt. I spread her arse cheeks wide and buried my tongue right up her puckered little arsehole. I wondered if she had ever been fucked in the arse before? Her anus was so pink and tight I would love to stretch it with my cock some time.
She was clearly loving having her arse licked and was moving her bum towards my face so I could push my tongue deeper. I was mega turned on, feasting on an 18 year olds arsehole and cunt. It was a good job we moved to the bedroom as the smell of sex would have given the game away if we stayed downstairs. I was about to thrust my cock inside her tight little body, but she stopped me and said she wanted to suck my cock again and that she had masturbated several times thinking about when she sucked me off in the kitchen. She sat on the bed, with her leggings and knickers around her ankles and I stood in front of her face and she placed her lips over the tip and began to slide her mouth up and down my obscenely hard cock. She twisted her head with each downward move so the roof of her mouth rubbed against my dick which filled her mouth, she was good at sucking cock and had clearly had a lot of experience for her age. The tip of my cock just inside her tight, wet throat. Blowjobs were obviously her 'thing' and she was making soft coo-ing sounds as she sucked me off.
I pulled my spit covered cock from her wet warm mouth and got her to lay on the bed with her arse in the air, I figured we had about 3 minutes before Suzy walked back through the door. Lauren was rubbing her clit and I slid my cock in to her tight little cunt for the first time. It was now a race to cum before we were caught, I rammed my cock in and out of her hole as she frantically frigged herself off. Her pussy was tighter than Suzy's and I could feel my bell end smashing in to her cervix as I drove my cock balls deep in to her. The sound of the bed creaking and Lauren's moans with each thrust could probably be heard from outside as the windows were open, but by this stage I didn't care. I stuck a finger up her arse, which she seemed to enjoy. I waited till I heard Lauren cum before filling her tight 18 year old with my sperm, thick creamy spunk pumping in to her body. Fuck me that was so horny. We were both panting as she pulled up her leggings and her slutty pink knickers to keep her cream pie inside. I went to the bathroom to wash her cunt juice from my beard, as much as I would have loved to have gone out with my face reeking of her cunt, I thought best get rid of it as Suzy knows what pussy smells like. haha.
Lauren went in to the living room I stayed upstairs till Suzy returned – non the wiser that I had just fucked and cum inside her babysitter, on her bed. I was looking forward to coming back in later and hoping to see a nice wet patch of cum on the from of Lauren's legging where it had leaked through her knickers.
The post Risky fuck with Lauren the babysitter appeared first on Hot Indian Sex Stories | Hindi Sex Stories.