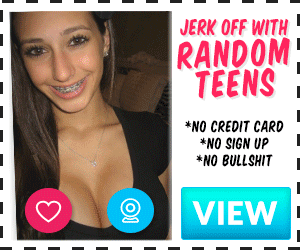 All I want is cock… Sweaty, drippy, fat, veiny. I want it on my face, in my mouth, stretching me out, filling me up. Please… I'm begging you… If there's something I'm more addicted to, I haven't found it yet. I'm the first one to admit I have a problem, no need to come for me; but do I plan on getting help? Absolutely fucking not. I'm greedy and selfish, fucking sue me. I think I owe myself this little pleasure.
Sorry, I'll stop being so unbearably pathetic, but you get the gist. It's an issue, I know. Those close to me find it disturbing and worrisome; I tell them time and time again that I don't need any sort of "help" but they don't get it. I know it's unconventional to walk in on your naked daughter choking on a thick monster cock; or to accidentally find your friend getting stretched open in a public bathroom stall. They keep telling me it's getting out of control. I just can't help but take care of my cravings. Every waking moment I simply want to enjoy a juicy cock. I want to feel it slapping me across the face. I want that yummy musky taste on my tongue. I want to lick the sweat off someone's balls. Just thinking of having a dick in my hand is enough to get me wet. My pussy is so sensitive these days, even looking at a nice bulge will set me off. All I want to do is please and get rewarded with cum, is that really so bad? I've been such a good slut, don't I deserve to be used and stretched out beyond my limits? Please… I've been so horny and subby and desperate. My pussy is so wet and needy; my little clit is so hard and throbby. Rub your cock up and down my slit and tease me, please. Make me beg for your cock, I want it so deep inside me. Please, Sir, you don't know how badly I want to be abused and stretched out and made to cum all over your fat cock. Use me, please, I'll be your set of holes. You can even share me, if you want. I just want to worship lots and lots of cocks because that's what I was born for.
Most people want a profitable career, or a family to grow old with. All I dream of is perfecting my craft as a cock slut. Although I'm pretty decent when it comes to being a responsible adult, I don't want to have to deal with any of my adult responsibilities. I want to be mindlessly used without any need for consent or warning. No feelings, no limits, no choices. Head empty, no thoughts, just cock.
One day I'll be the star of my very own 50-person orgy! And when that day comes (as well as everyone in attendance) I'll be the happiest person ever. It would be heaven on earth for me: I'd be smothered in cock and balls, fingered and fucked and stretched! Oozing cum from all my sore and gaped holes. Cock after cock after cock. It would be a soul-cleansing experience.
But it's really sad that not very many people around me think like that… I wish it was a lot easier to meet people as depraved as I am. I've been on so many dates and had so many partners; most of them I can't even remember, not a name, not a face, nothing. And many have tried to make it seem like it's my fault, but I can explain. I'm human, I make mistakes, but I've always been very honest about what I want and what kind of person I am. At first almost everyone is in love with the idea of acquiring their very own fucktoy, but very few people actually know what they're getting themselves into. I have gotten lucky a handful of times and found partners that have encouraged and enabled me every step of the way, but more times than not others want me to change my mind about what I want. I have an addiction, I know, but why does that mean I have to try and "get better"? I love my life like this. If anything, I'm a lot happier than most people I see; I'm better because of this. I thought humans were supposed to be social beings. This is how I socialize.