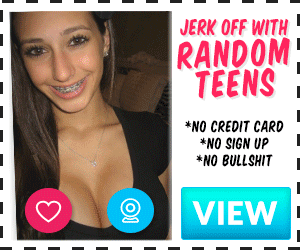 "You know what, I would like to see your outfit." (holding back how nervous I was). I don't know why I was nervous, from the messages we have been sending to each other over the past week I could tell exactly what she wanted and I knew it was exactly what I wanted. She stood up and took off her jacket. The outfit was very cute. Her top was black and laced and covered from the bellybutton up. She had tiny shorts on and looked like a perfect little fuck toy for me to have fun with.
"Lets see it from a different angle." I insisted while grabbing her hair and guiding her towards a more open area of the room. She was very good at reading my body language. Just by grabbing her hair she would submit to any direction I led her. "Now on your knees" I said calmly. she obeyed and smiled up at me. "Your outfit looks very nice from this angle." I joked. "Oh is that what you got me on my knees for?" She bantered back. "Of course why else would I?" I said while pulling down my shorts. She had told me before she fantasized about sucking my cock. She had never really had a good look at it until now. She definitely liked what she saw and could not wait to have fun. She slowly worked her way down my shaft, slowly going deeper into her throat. I loved watching her please me with her mouth but I couldn't wait to use the rest of my little pet slut. I had so many things in mind I wanted to try and we didn't have all day. I let her tease me with her mouth a while longer before I had had enough. I grabbed her hair at the roots with both hands, pulled her head back and said "on your feet." She stood up, I turned her around and led her towards the nearest wall with my left hand in her hair. I pulled her shorts and panties off. I held her face to the wall with one hand and smacked her ass with the other. She let out a little yelp. I pulled her up against me with her ass pressed to my hard dick. I put my hand on her throat and started walking her to the bedroom. We finally had time to fuck the way we wanted.
I bent her over the bed and smacked her ass again. Then I started teasing her with my fingers. Not inserting but running them against her lips just to feel how wet she was. Smacking her ass again with one hand I began inserting two fingers. I alternated between spanking and fingering. Going deeper with my fingers and smacking harder with my palm. I played with her clit with my thumb while I had my fingers inside her and she squirmed and moaned like she did when we first fucked. Her cum made her pussy soaking wet for me. "Do you want my cock?"
"Yes I want it"
I smacked her ass nice and hard one more time then I put on a condom, as quickly as I could. I knew she was more than wet enough so I shoved my cock inside her about half way. She moaned and I could tell she was going to be nice and loud for me when I really started going.
To be continued…